It is now more than three months since the lockdown was first implemented. People across Tynedale and Ponteland have supported these rules overwhelmingly, and as a result, we are now past the peak of the virus. There are no regions where the epidemic appears to be increasing, the number of people in hospital with coronavirus, and the number of critical care beds in use is down significantly. 
However, this is an extremely serious pandemic, many thousands of people have very sadly lost their lives, and every single death is a tragedy.
This has been a very difficult time for our country. I particularly want to pay tribute to the heroic efforts and sacrifice of our NHS and other key workers.
It is important to remember that this is not a short-term crisis. It is likely that COVID-19 will circulate in the population - both in the UK and around the world - long-term, possibly causing periodic epidemics. The only feasible, long-term solution lies in a vaccine or highly effective drug treatment. A vaccine could be more than a year away, and in a worst-case scenario – a vaccine may never be found.
The current lockdown cannot continue indefinitely. That is why on 11th May 2020, the government published 'Our plan to rebuild: the UK government's COVID-19 recovery strategy" to set out how the country can emerge from the lockdown.
Just four weeks ago, an average of 1 in 400 people in the community had coronavirus, by the first half of June, that figure was 1 in 1,700.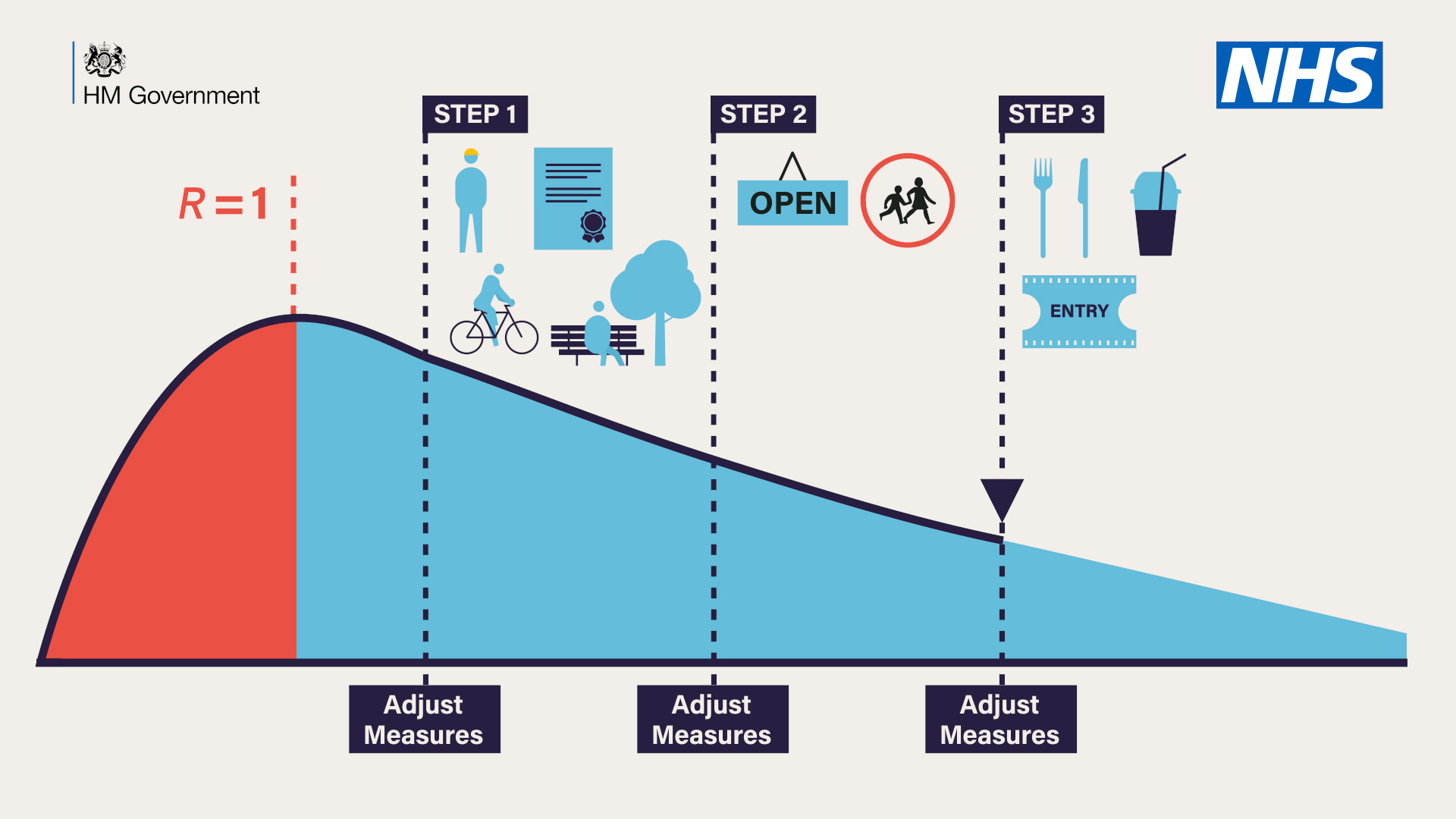 Step 1 and 2
These steps are in place now.
When the lockdown was implemented on March 23rd, the government said that you should work from home, and only go to work if you must. It now must be stressed that anyone who can't work from home, such as those in construction or manufacturing, should go to work.
To ensure that everybody is safe at work, the Department for Business, Energy and Industrial Strategy has established new guidance for employers to make workplaces COVID-secure. This has been developed with Public Health England and the Health and Safety Executive. Click here to find out more. 
Face coverings
As more people return to work, there will be more movement outside people's immediate household. This means that you should aim to wear a face-covering in enclosed spaces where social-distancing is not always possible, and you come into contact with others that you do not normally meet, such as on public transport. This can help reduce the risk of transmission.
It is important to note that a face covering is not the same as a facemask, such as surgical masks or respirators used as Personal Protective Equipment used by healthcare workers. The government has issued guidance on how to make and wear a face covering, which you can read by clicking here. 
A return to school for more pupils.
Early years settings, and for Reception, Year 1 and Year 6 are now back at school in smaller class sizes. This ensures the youngest children and those preparing for a transition to secondary school have the maximum amount of time with their teachers. 
The government aims to ensure all pupils return to school full time in September. 
Opening non-essential retail
Non-essential retail can now re-open, provided stores are following COVID Secure guidelines. 
Permitting cultural and sporting events for broadcast
These are taking place behind closed doors for broadcast. 
Social and family contact
You can now spend time outdoors, including private gardens and other outdoor spaces, in groups of up to six people from different households, following social distancing guidelines.
Households containing one adult (including those with children under 18) can join another household to form a 'bubble' to act as if they live within the same household. This means they can spend time together inside, and do not need to stay 2m apart. These bubbles must be exclusive, meaning you cannot switch the bubble you are within, or mix with multiple households. If any member of the support bubble develops symptoms, all members of the bubble will need to follow the normal advice and self-isolate. 
Step 3
Step 3 will take place from July 4th
Pubs, restaurants and hairdressers can re-open, providing they adhere to COVID Secure guidelines. 
Two households can meet up in any setting, with social distancing. 
People can enjoy staycations in England, with the re-opening of accommodation sites. 
Some leisure and tourist facilities can re-open, provided they can do so safely. This includes outdoor gyms and playgrounds, cinemas, museums, galleries, theme parks and arcades, as well as libraries, social clubs, places of worship and community centres.
Where it is not possible to stay two metres apart, guidance will allow people to keep a social distance of 'one metre plus'. This means staying one metre apart, plus mitigations which reduce the risk of transmission.
Unfortunately, some 'close proximity' venues such as nightclubs, soft-play areas, indoor gyms, swimming pools, water parks, bowling alleys and spas will need to remain closed. 
While the infection rate continues to fall, the Prime Minister has been clear that the public must continue to follow social distancing guidelines to keep coronavirus under control. The Government will keep all measures under constant review and will not hesitate to apply the handbrake, or reverse measures, should the virus begin to run out of control.